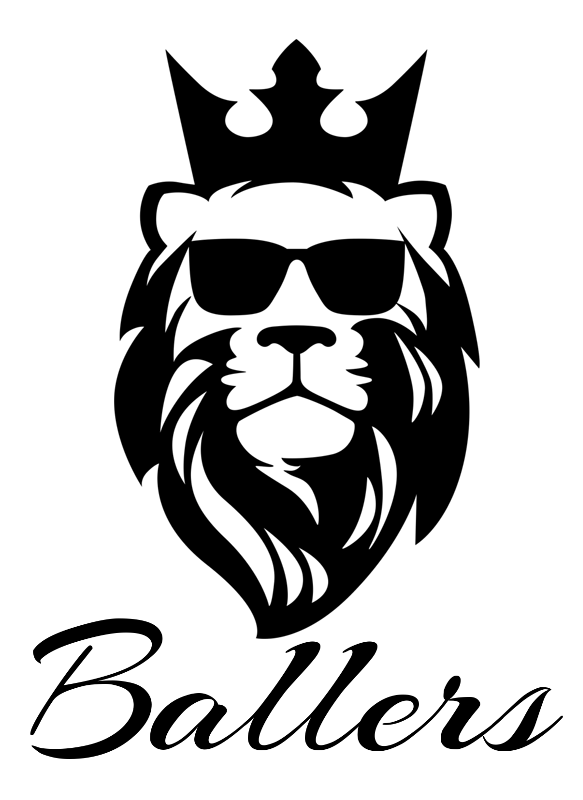 vs.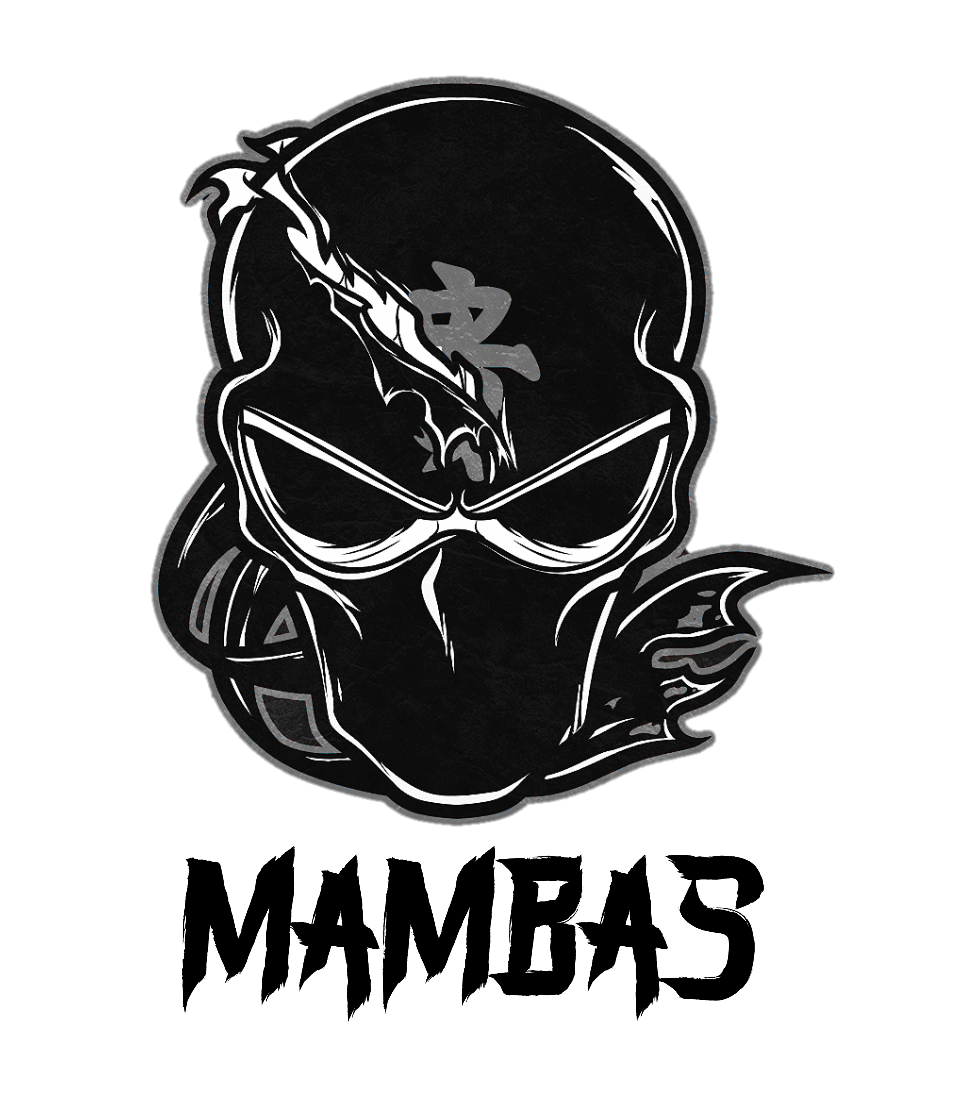 With the regular season coming to an end, GBBL had 1 last game left to be played. This past Sunday was All-Star Sunday at GBBL and included several challenges, a final game to decide the top 5 All-Stars and a few awards to hand out.
The night started with the Skills Challenge that included 12 participants. The finals came down to Umair Vanthaliwala vs. Riyad Ramjaun. Riyad took an early lead and was able to get 2 3-point shots up first, but nothing went in. Umair eventually caught up and came down to whoever who hit a 3 first. Umair finally hit a 3 as both participants were exhausted and was crowned GBBL's 1st ever Skills Challenge winner. Next up was the Kings Court challenge. With a total of 8 participants, some participants were eliminated quickly without a chance at scoring. In the end, the finals came down to Umar Ilyas vs. Umair Vanthaliwala. Umair, coming off a win in the Skills Challenge, was visibly tired, but gave it his all. On the other side, Umar tried everything, to score, but was eventually stripped of the ball. With the steal, Umair stepped back beyond the line and calmly hit a 3 for the win to claim his 2nd award on the night, winning the Kings Court challenge. The final event before the All-Star game on the night was the highly anticipated 3-point contest. This contest included 10 of the hottest shooters in the league with only 3 moving on to the finals. Each participant had 3 shots from each spot with the 3rd shot being a money ball. With a score of 8 points (40% shooting), we had a 3-way tie between Zahid Merchant, Adeel Qureshi and Bilal Ilyas. The 3 shooters went at it again in round 2, and should have crowned a champion, however, Adeel & Bilal ended up tying with 12 points, while Zahid was unfortunately eliminated with a score of 9. Adeel & Bilal went to a sudden death with 1 shot from each spot (5 shots in total) and they could place their 1 money ball anywhere they chose. Bilal went first and hit 4 points including his money ball. Adeel was up next and needed his money ball to give him a chance with the last shot. Unfortunately, he came short, and Bilal was crowned the 3-point champion. Adding to Bilal's haul, both All-Star teams had a half court challenge and the person who hit the half court shot first would win possession for their team along with a gift basket provided by Baseer and Shoppers Drug Mart. Bilal ended up taking the last shot for his team and as he's done all year, calmly stepped up and hit his half court shot in his first attempt.
The final event on the night was the All-Star game featuring the top 10 GUT point earners. Unfortunately, big man Faisal Khan was injured this past weekend in another league he plays in and could not make the festivities (we pray for a quick recovery). Next man up was Riyad Ramjaun who was quickly added to the Ballers. The Ballers were captained by Umar Ilyas who ensured he had Zahid's lethal shooting. To go along with Zahid & Riyad's shooting, Umar surrounded them with rebounders as Hamza Rustom (who was replacing Mo Kala who is currently in Pakistan) and Baseer Yaseen. On the other side, captain Bilal Ilyas quickly drafted Umair Vanthaliwala (a player he has been wanting to play with all year). This dynamic duo was already lethal to begin with, but they had to add more people and this team just got deadlier. DPOY candidate (if we had an award) Tabish Khan was added along with sharpshooter and commish Jav Ahmed. Rounding out the Mambas on the night was Bilal's older brother and MIP candidate Fahad Ilyas. With 2 stacked teams, it was a battle of the best, with the winning team (a best of 3 series) being crowned 1st team All-Stars. The Mambas got things going early on and Bilal & Umair showed why they could very well be the top 2 offensive players in the league. Not to be outdone, the Ballers woke up and perennial All-Stars Zahid & Baseer got involved. Unfortunately for the Ballers, their comeback was a little too late, as the commish Jav hit a beautiful mid-range to end the game and give the Mambas a 7-4 win. Game 2 started with the Mambas taking control early on. Tabish kept doing what he's done all year and swatted shot after shot, while Umair kept hitting 3 after 3. Bilal decided to keep his foot on the gas pedal and got his signature floater to drop while Fahad hit a big time 3. Within a blink of an eye, the game was over, and the All-Star festivities came to an end, with the Mambas coming out on top.
With all the events completed, it was time to announce the last remaining award winners. Although all the players in the league are the real winners, GBBL had to acknowledge a few individuals that stood out. The Most Improved Player award went to Umar Ilyas who has always been a very good player, but this year turned into a league star. Consistently on top of the GUT standings, he not only went to the most finals, but contributed to all his teams. 2nd up was the 6th Man of the Year Award that goes to the most valuable substitute player. Suhaib Ibrahim started coming out in week 4 and fortunately for us, he caught the GBBL bug and turned into essentially a regular, coming out for the following 9 straight weeks, and finishing in the top 10 of GUT points. The 3rd award was the Teammate of the Year; not only an award, but GBBL would cover 50% of the winner's entree fee for next year. A player who is typically quiet off the court, but lets his play make all the noise, is consistently considered the DPOY (if we had that award) and ultimate good guy who is always looking to help his teammates or the league, the teammate of the year award was presented to Tabish Khan. Finally, the last award of the night was the Kobe Bryant MVP Award. Unless you've been living under a rock all year, everyone knew who the MVP was. The only player in GBBL history to win the triple crown (Most in Points, 3's made and Rebounds) along with being the top GUT point earner and the 3-point champion, GBBL season 3's MVP was none other than Bilal Ilyas. Below is a list of all the winners this year: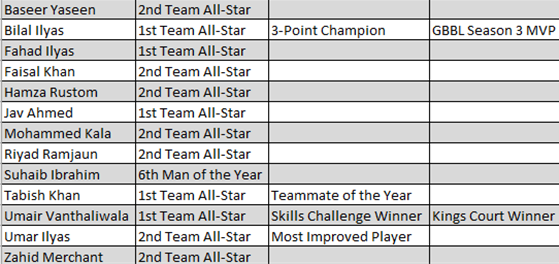 On a final note, GBBL would like to thank all the players and substitute players that participated and helped this league run this season. Without your help and participation, this league would be nothing. Insha Allah, we aim to come back even better and stronger for Season 4 in the fall of 2022. Management is also planning a league wide iftar dinner this year, to ensure that the brotherhood we built these past months, extend well beyond the season and we can come together. For those that were nursing injuries, we pray you all heal up and come back stronger for season 4 and can't wait to see everyone back on the hardwood. Until then, stay loose and stay fresh Young Bloods!!!