Season 3 - Week 14 Sneakers of the Week
Air Jordan 1 Mid SE Metallic Gold - Jav Ahmed
The final pair of Season 3's SOTW goes to none other than the Commish, Jav Ahmed. Jav truly has 1 of the bigger and better sneaker collections of anyone in GBBL, but he made sure to save his best kicks for last. Week 14 we see the gold standard as the commish broke out the AJ 1 Metallic Gold's to everyone's shock. The AJ 1's are probably the most iconic shoe EVER made and almost everyone has owned a pair or 2 once in their lifetime. What makes these ones stand out is the colorway.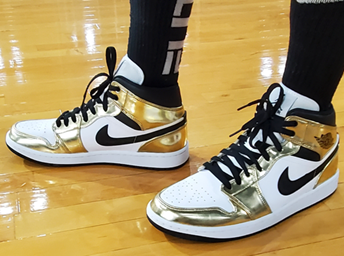 Just like MJ was during his prime, Jav has become the face of the league. Always on top of the GUT standings, he is a true competitor and is always seen early in the gym working on his game, trying to always get better. Unfortunately, just like MJ, wearing the AJ 1's proved to not always be the smartest idea to do. MJ said it himself during the last dance that his feet hurt and bled when wearing them. Unfortunately, Jav didn't listen to the GOAT and wore them this past week and paid for that decision. Complaining about pain in his feet, he powered through the pain knocking down shot after shot but his team came up just short. Fortunately for him, this will not be the last we see of the commish, as he is part of All-Star Sunday and will take part in all the festivities.
Your week 14 and season ending Sneakers of the Week, the Air Jordan 1 Mid SE Metallic Gold worn by the commish Jav Ahmed.
---
Season 3 - Week 13 Sneakers of the Week
Nike Air Penny V "Game Royal" - Riyad Ramjaun
Week 13 SOTW highlights a pair of kicks that were originally seen back in week 1 but were not seen again for 10 weeks. Riyad finally brought them back and are we glad he did. One of the cleanest shoes we've seen all year, there is so much about this shoe to love. For the younger generation who are unaware, Penny Hardaway was one of the best players to ever enter the NBA; unfortunately, injuries early on took a toll and he could not recover.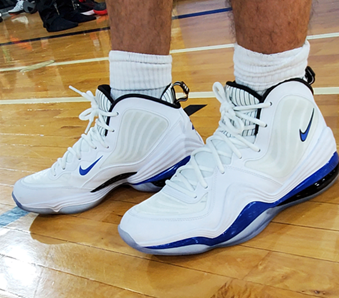 The duo of Penny & Shaq in Orlando was the original Kobe & Shaq and was a force to be reckoned with. Penny was so beloved, that many GBBL players have stated he was their favorite player growing up and is the reason why many wear the number 1 when possible.
The Nike Air Penny V's have the cleanest look of all the shoes we've seen this year but is also full of small details that take it to the next level. The heel tabs both have messages with the 2nd heel tab saying, "The Storm is Over". Additionally, the insoles of the shoes read a familiar "Ballin is What I Was Born to Do".
Just like Penny, Riyad entered this year coming off a strong season 2 and was turning heads. Injuries and illnesses unfortunately took a toll on Riyad too (just like Penny) and he regressed a lot this year. Unlike Penny though, Riyad found his game in the 2nd half of the season and is now coming back into form. The Storm is indeed Over and if you know Riyad and his competitiveness, you know Ballin is What He Was Born to Do (during ball season that is) as he is now slowly climbing up the GUT standings and is making a case for the top 10.
Your week 13 Sneakers of the Week, the Nike Air Penny V "Game Royal" worn by resident data guru, Riyad Ramjaun.
---
Season 3 - Week 12 Sneakers of the Week
Nike Zoom KD 11 "Chinese Zodiac" - Umair Vanthaliwala
Week 12 SOTW highlights the shoes of both arguably the best scorer in the NBA along with the best scorer in GBBL. Umair Vanthaliwala joined us as a sub early in the season, and due to injuries, joined GBBL as a regular. Since his start, he has taken over the league by storm. Regularly putting on a showcase and leaving all the onlookers in awe, it's only fitting he rocks the shoes that he does.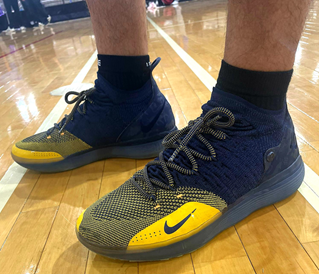 As is the case with Umair who is well travelled all over the world and enjoys all sorts of different cultures, the KD 11 Chinese Zodiac's pays homage to Chinese heritage and Kevin Durant's time with the Golden State Warriors.
Just like KD this year, Umair has only played a limited number of games (KD due to injury and Umair due to signing up later in the season), but even with the limited games, they are in the top of the standings across all categories. Umair has only played 6 of the 12 weeks, yet has cracked the top 10 in GUT standings, while also already in the top 5 of both scoring and 3's made. Just like the Slim Reaper, Umair is a killer on the court, but is one of the nicest guys off the court. With only 2 weeks left and a possible Dynasty on the line, it's only a matter of time until Umair is top of the GUT standings.
Your week 12 Sneakers of the Week, the Nike Zoom KD 11 Chinese Zodiac's, worn by a future GBBL MVP, Umair Vanthaliwala.
---
Season 3 - Week 11 Sneakers of the Week
Air Jordan 11 Retro Concord (2018) - Saoud Ramjaun
Week 11 SOTW's highlight one of the better dressed players and best-looking shoes in GBBL history. Saoud has been with GBBL since its inception and was able to cop one of the most sought out shoes while others were left on the sidelines looking with envy. Sood rocked the Air Jordan 11 Retro Concords that were released in 2018 and was a great looking shoe it is.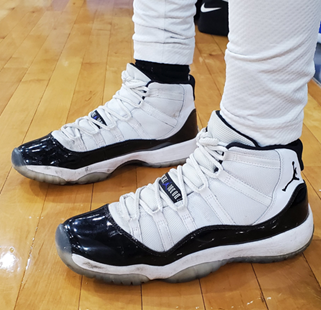 The signature shoe keeps all its details intact to the original but with 1 small but important change. The 2018 edition of the Concords features the 45 stamped on the black heel tab, a nod to the jersey number that MJ wore upon his return to basketball. Although Sood is a huge Lebron fan, its refreshing to know that he doesn't forget who the GOAT is (even though he won't admit it) and is the reason why he wears the GOAT's shoes.
Sood joined GBBL in 2018 (just at the time his shoes were released) and although has been a big part of the league, it wasn't until this year that you could see him having fun out there. Just like MJ who had tons of fun playing, Sood too looks like he's having a blast. With some coaching and encouragement, Sood has become a shooting machine, and reminiscent of MJ's legendary shot over Byron Russell, Sood stepped up in a big way 2 weeks ago and with his team down, he stepped back behind the 3-point line and at the buzzer hit a big time 3 to win the game for his team. With his newfound confidence, Sood looks to build on his momentum and climb the GUT point standings.
Your week 11 Sneakers of the Week, the shooting machine himself, Saoud's Air Jordan 11 Retro Concords.
---
Season 3 - Week 10 Sneakers of the Week
Timberland Boots "Wheat Nubuck" - Hummaad Ahmed
Definitely not an ode to perhaps the worst NBA dunk contest, but we take a break from sneakers to spotlight Timbs. Why?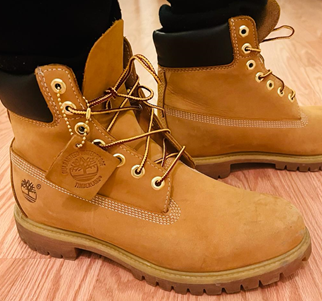 For all our bros like Hummaad Ahmed who are currently sidelined due to injuries and rocking Timbs instead of ball shoes, while working hard to come back to the court. This week's SOTW highlight you!

GBBL OG & #1 good guy, Hummaad continues to be a pleasant sight to see on the court but needed a few weeks off due to an unfortunate injury. His Timbs are a reminder of the hard work he puts in and continues to grind through all kinds of pain just so he can be a part of the GBBL culture.

GBBL also awaits the return of others who are dealing with significant injuries. GBBL top dog Archie can't wait to get back, as he's seen week in and week out on the sidelines to help the league out and get some shots up. Everyone's best friend Adeel V & new to GBBL superstar Jibran are the other players, who like Arch, are working back from torn ACL's. Umair Sheikh, of GNBL lore, had an unfortunate injury in Week 5 but avoided major damage and is working back to 100% as well.

The Timbs are representing all these brothers, but also serving as a reminder that when you come play ball, when you come on Tuesday nights, everything else in life is going ok. To that we say Alhumdullilah and that's over everything including GUT points. This league continues to be more like a brotherhood, it's about ball but it's not ALL about ball. Something we ask everyone to keep in mind as we finish off Season 3.

For those on the sidelines at the moment, keep up the hard work boys and GBBL can't wait to have you join us back on the hardwood!
Your week 10 Sneakers (Boots) of the Week, the Hummaad's Timberland "Wheat Nubuck" Boots.
---
Season 3 - Week 9 Sneakers of the Week
Nike Kyrie Flytrap 3 EP White Gold Mettalic - Bilal Ilyas
Week 9's SOTW we go back to an OG for both GBBL and SOTW. Bilal has been a mainstay at GBBL from Season 1 and the first SOTW featured Kyrie's. It was only fitting that as we start a new Dynasty this week, we go back to the beginning where it all started.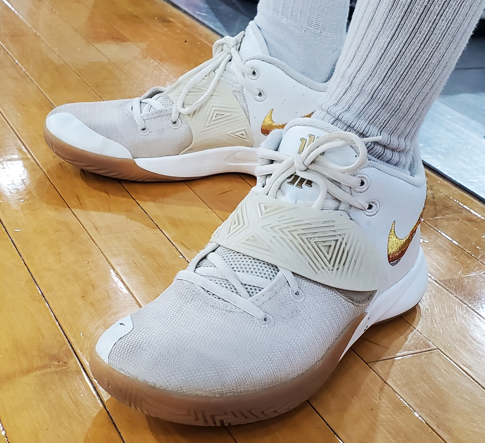 Bilal has been at the top of the GUT standings every year he plays and is again in the running for overall MVP this season. Just like his shoe's owner in Kyrie, Bilal is routinely selected 1st overall in every week's draft. Bilal came in the week tied for most championships this year and top of the GUT standings and looked to add to his totals.
The Kyrie Flytrap 3's is a very popular shoe, but this colorway was never seen until Bilal decided to rock em to GBBL. Although not flashy like some others in the league, the white and gold features essentially epitomize both Kyrie and Bilal. With Gold always shown as the color of excellence and reaching the pinnacle of any sport you are playing; it's only fitting that GBBL's MVP frontrunner wears this color.
Bilal has routinely propelled his game and his teammates to win after win, week in and week out. His game is modelled very closely after Kyrie's game with him having probably the most lethal shot in the game, along with the deadliest ball handling skills this league has ever seen. The only difference? Bilal is vaccinated and ensures he doesn't let his teammates down and plays every week and is never a distraction to his teammates. Consistently a quiet and nice guy, Bilal ensures his teammates are all involved but can also take over the game single handedly if needed.
Your week 9 Sneakers of the Week, MVP frontrunner Bilal's Nike Flytrap 3 White Metallic Gold Summit's.
---
Season 3 - Week 8 Sneakers of the Week
Nike Lebron Soldier 14 "Hare" - Zahid Merchant
Week 8's SOTW features yet another pair of Lebron's, but this week has a colorway that is eye popping and vivid. Zahid Merchant upgraded this year from season 2 and rocked his Nike Lebron Soldier 14 Hare's.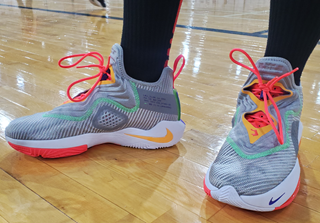 Although not directly inspired from the Space Jam movie, this shoe is inspired from the Jordan 7 Hare's that were initially inspired by the original Space Jam. Incorporating all the bright abd vivid colors of the looney tunes, the Lebron Hare's bring their own unique style and flare while still paying homage to the original Nike Jordan's.
Being such a big Lebron fan (1 of many big Lebron fans in GBBL), it was only fitting that Ziggy went and got himself a pair of Lebron's. Additionally, it is rumored that although Zahid claims to go to LA all the time to visit family, he's secretly meeting with LBJ himself and learning how to keep one's body so fit while age is obviously catching up to everyone. Some of us have even "seen" his video calls from LBJ (although Lebron never actually speaks to him directly??)
Just like Lebron, Zahid has been a mainstay at the top of the GUT leaderboard all year regardless of his age and him playing against younger competition. And just like Lebron, Zahid is the ultimate competitor, always looking for ways to up his game and better his teammates. Halfway through the season, Zahid has been on some teams that were close to Dynasty but hasn't gotten there yet, but you know it's only a matter of time until Ziggy can figure it out and get himself back to the top and in contention for MVP this season.
Your week 8 Sneakers of the Week, Zahid's Nike Lebron 14 Soldier Hare's.
---
Season 3 - Week 7 Sneakers of the Week
Puma MB.01 LaMelo Ball - Riyad Ramjaun
Nikes? Check. Jordans? Check. Adidas? Check. Pumas?...Pumas?....CHECK!
Week 7 highlights a 1st at GBBL, as Riyad broke out the freshly released MB.01's. LaMelo Ball's first signature shoes did not disappoint. The reviews are crazy on this sneaker, and it helps that LaMelo has been breaking out this season while rocking these MB.01's.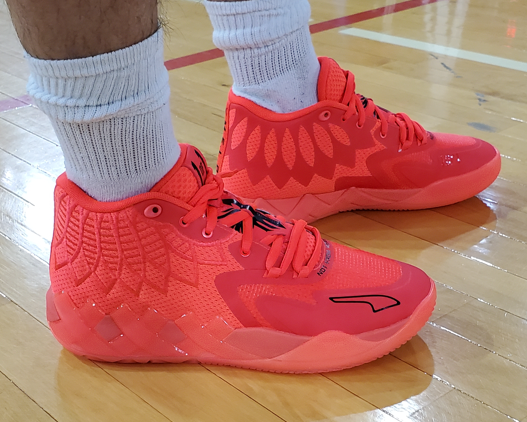 While some are just jumping on the LaMelo bandwagon, Riyad's been in the driver's seat since day one. Maybe as far back as his Chino Hills days. Riyad saw something in LaMelo, and much to the chagrin of others, said he was going to be a star in this league. He stuck by that prediction, taking a lot of unnecessary heat and criticism along the way. Well, he didn't have to wait long as LaMelo is poised to be an all-star in only his SECOND year in the league.
Rumor has it Riyad channeled his inner LaMelo w/ a nasty crossover in the Week 7 finals. While there may be footage of said crossover, it seems to mysteriously cut out mid-shot. So, we can only assume he drops the shot after the crossover as LaMelo himself would've done.
Maybe Riyad ran some data analysis with complex macros and had a VB script spit out the facts, but the fact is the player and the shoe are straight fire. Riyad will look to continue to rock his Balls to the court and hopes to rack up GUT points alongside highlight plays.
Your week 7 Sneakers of the Week. The RR.01 x MB.01's – Riyad's Balls.
---
Season 3 - Week 6 Sneakers of the Week
Air Jordan 34 "Infrared 23" - Hamid Malik
With the final entry to SOTW for 2021, we had to go back to an OG sneakerhead and highlight his newest pair of kicks. Hamid has been a GBBL'er from the get-go, and has been featured on the SOTW many times, but his latest entry might take the cake.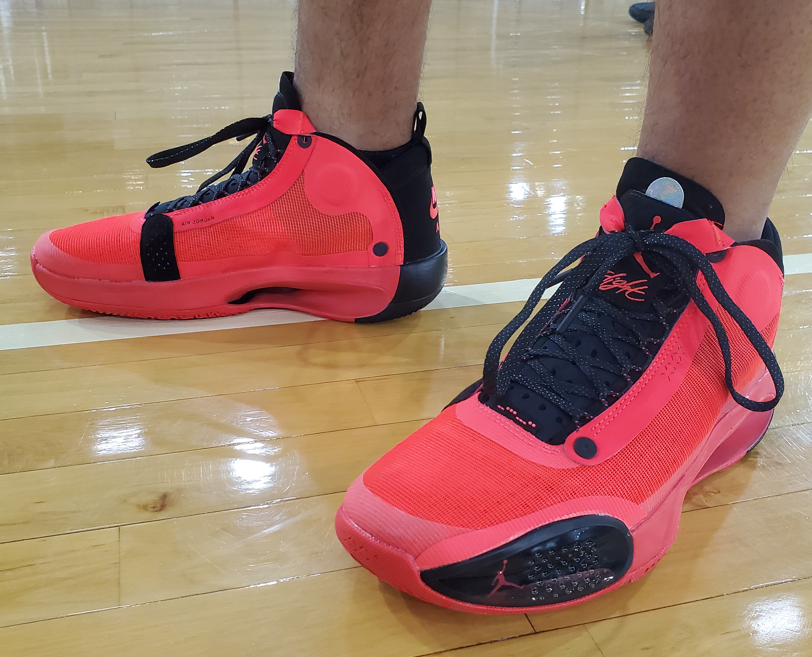 Hamid rocked the Air Jordan 34 "Infrared 23" this week and what a shoe it is. With its BRED color, Hamid could be spotted anywhere on the court and made sure that this week, he would finally get on the GUT point board. Just like Jordan, Hamid is never out of any game, and brings every bit of energy and passion he has to every game. Never count him out, just like MJ, Hamid is never out of any game. Your week 6 and final SOTW of 2021, the Air Jordan 34 "Infrared 23" and one of the ultimate sneakerheads at GBBL, Hamid Malik.
---
Season 3 - Week 4 Sneakers of the Week
Nike KD 14 "Surrealism" - Awais Alvi
Week 4 and we get introduced to our first pair of KD's. The Nike KD 14 Surrealism makes their debut at GBBL and the shoes belonging to the Slim Reaper is a perfect fit for its GBBL owner, OG Awais Alvi.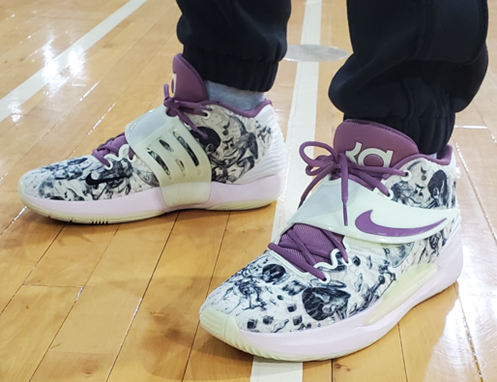 Kevin Durant is known for lurking on the wing, waiting for the right time to strike before slicing his way through defenses. The KD 14 is designed to help versatile and relentless players like Awais feel fresh all game long. Additionally, the beautifully crafted artwork on these pair of shoes is something we haven't seen. The shoes get artsy in a soothing green lace-like mesh with black detailed drawings exhibiting distorted faces and other objects that represent an altered reality.
Just like KD, Awais is a lethal killer on the court. Awais, GBBL's resident gym rat, has really revolutionized his game since entering the league 3 years ago. Just like KD, Awais is a top player in GBBL and can score at will, both inside and outside, most times with relative ease. Unlike KD, Awais is never looking for the easy way out and joining super teams and he's typically had to carry the load for all his teams. Although not a top 5 GUT point getter yet, it's only a matter of time until Awais' teams take form, and he begins to lead all his teams to chip after chip. Your week 4 SOTW, the Nike KD 14 Surrealism.
---
Season 3 - Week 3 Sneakers of the Week
Nike Lebron 17 "Air Command Force" - Faisal Khan
Week 3 and we get our 2nd pair of Lebron's but what a pair we have this week. Although Faisal Khan is a newbie to GBBL, he's no slouch when it comes to shoes and collecting high demand ones. And although Faisal was not able to play this week, we couldn't pass up the opportunity to highlight his pair of kicks, the Lebron 17 Air Command Forces first.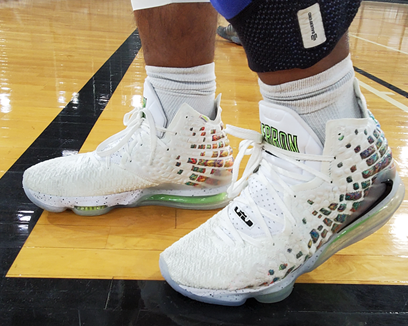 The Nike Lebron 17 ACF's are one of the nicer looking LBJ shoes. Originally released in the 1992 hit movie "White Man Can't Jump" with Woody Harrelson wearing them, the re-release of these shoes reminds us just how detailed they are. With a new "Lebron" embroidery on the tongue, it's a nice white-based Knitposite upper with multi-colored accents featured on the heel.
Fai has had fun in the first 2 weeks of his inaugural GBBL career but has been hampered by a bad knee. With his help, his team was able to capture week 2's championship, but an unfortunate injury will now keep him sidelined for the next few weeks. Championship aside, there are too many similarities between Fai and Lebron. Both are now entering the twilight of their careers; both are consistently hampered by nagging injuries and both refer to themselves as the King (check Fai's license plate: KINGKHAN). The biggest similarity? Both are passionate about ball and no matter the age or injury, will come back better and stronger than ever. Your week 3 SOTW courtesy of LeFai Khan; the Nike Lebron 17 "Air Command Force".
---
Season 3 - Week 2 Sneakers of the Week
Adidas Bel-Air Athletics x D.O.N. #3 "Prep School Jacket" - Jav Ahmed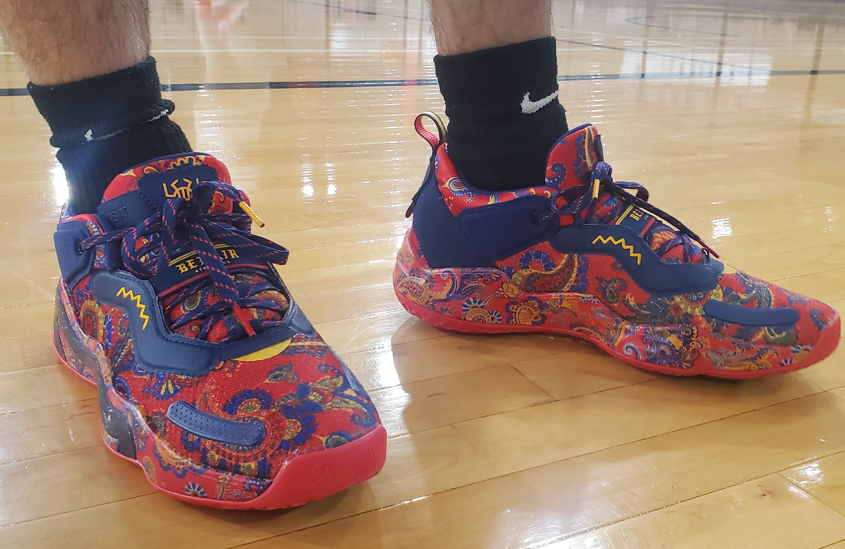 The Sneakers of the Week segment for Season 3 has really heated up and we have some very impressive kicks coming your way. Week 2 we highlight the Commish and his Adidas Bel-Air Athletics x D.O.N 3 "Prep School Jacket" shoes. Yes, you read that right; we finally have an Adidas shoe making its debut at SOTW, and what a shoe we have for you.
"In West Philadelphia, born and raised, On the playground was where I spent most of my days, chilling out maxin' relaxin' all cool, and all shootin' some b-ball outside of the school". The words in the lyrics say it all and epitomize what Jav has been doing since he was a young man in Mississauga. With most of us growing up in the 90's and were rabid fans of the show, this was a shoe that stood out to everyone on the court. The D.O.N. Issue 3 Prep School shoes are created in collaboration with Bel-Air Athletics and feature an inside-out, patterned upper mimicking the lining of the iconic prep school jacket Will wore on the show.
Not limited to just the Fresh Prince, the shoes are a Donovan Mitchell signature shoe, which further ties the shoes to the Commish. All 3 had their journeys from the city to the suburbs which resulted in more success on and off the court. And just like Will did at Bel-Air Academy, Jav lead his team to a championship in the first week back and will look to add to his GUT point total as the season progresses. Your Week 2 SOTW are the eye catching Prep School Jackets.
---
Season 3 - Week 1 Sneakers of the Week
Nike Space Jam x Lebron 18 'Wile E. x Roadrunner' - Adeel Qureshi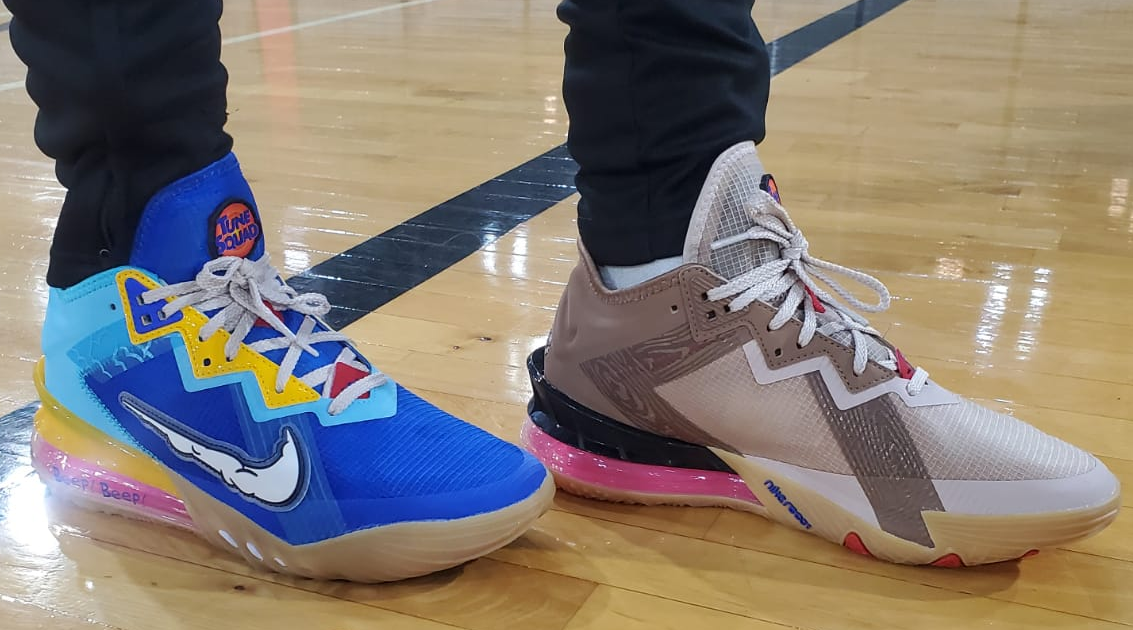 ---
Season 2 - Week 15 Sneakers of the Week
Nike LeBron 17 'More Than An Athlete' - Hamid Malik
Just when you thought SOTW was slowly dying off....it's back in a BIGGG way this week. We see back to back Lebron's but this weeks LeBron's take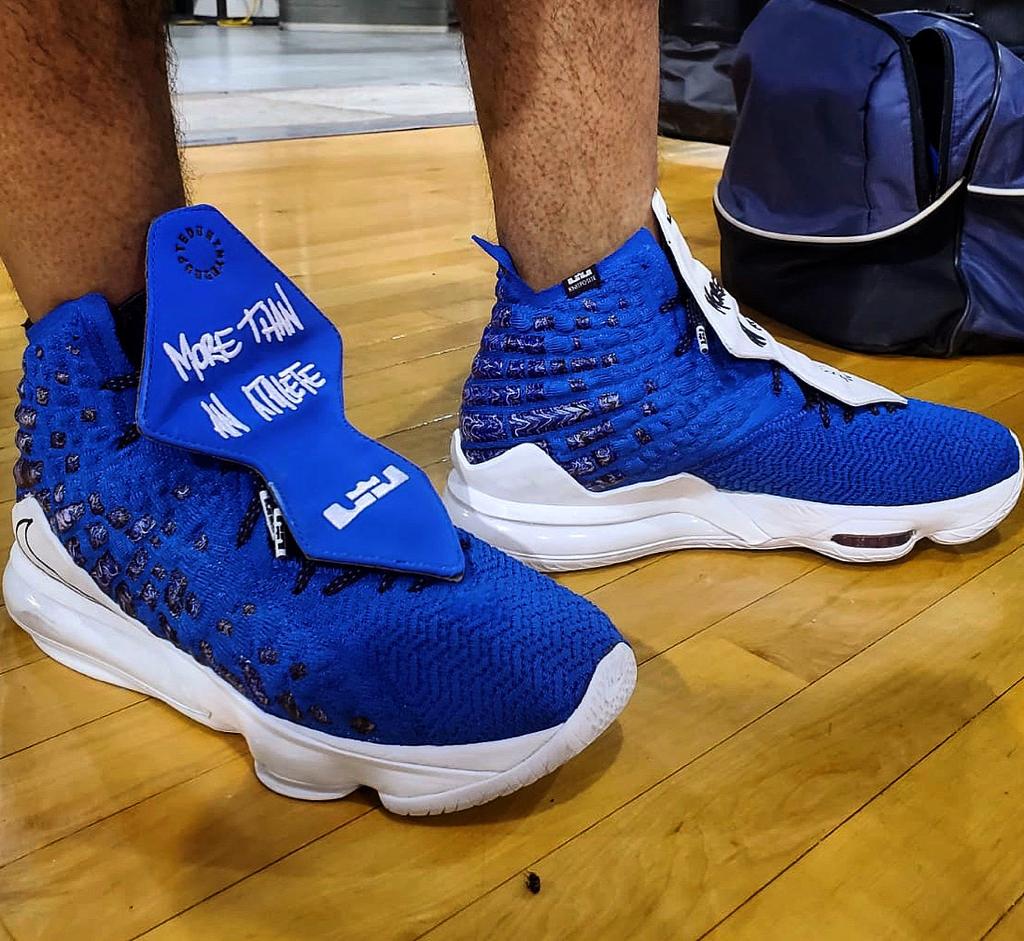 the cake matter of fact they take the entire dessert table, courtesy of Hamid Malik.
The LeBron 17's are packed with new technology such as a cutting edge material called Knitposite & a high-volume Max Air heel unit. But to this writers opinion the shoe's colorways left a lot to desire....that is until they released the 'More than an Athlete'. The racer blue knit just sets these off perfectly. The shoe comes with lace covers along with sharpie pens so you can customize writing on them. Crazy!
Hamid now wears 2 of the more sought after signature sneakers - the Kyrie 4 Halloween & Lebron 17 MTAA. Rumor has it the commissioner has requested a closed door meeting with Hamid to discuss future purchases as there is fear Hamid is getting close to having a better collection than the commish himself. On the court his shoe game has stepped up but his GUT pts have been at a standstill - with 5 finals appearances in the 1st 10 weeks but none in the last 5 - he finds himself just outside the top 10. 3 weeks to go he will have to channel his inner LeBron to get the job done (ie. making the finals, but hopefully winning them too).
Accountant by day, baller by night, Hamid has been a GBBL'r since day one and has contributed more than just on the court with key behind the scenes work which has helped make the GBBL experience what it is today.
The LeBron 17 'More Than An Accountant' are your sneakers of the week! With only 3 weeks left we have some craziness in store as we look to bring things to a close with a bang!
---
Season 2 - Week 14 Sneakers of the Week
Lebron 15 'Metallic Gold' - Adeel Qureshi
We've seen the Kyrie's, the Kobe's and even Jordan's. But if anyone was left it would have to be the Lebron's.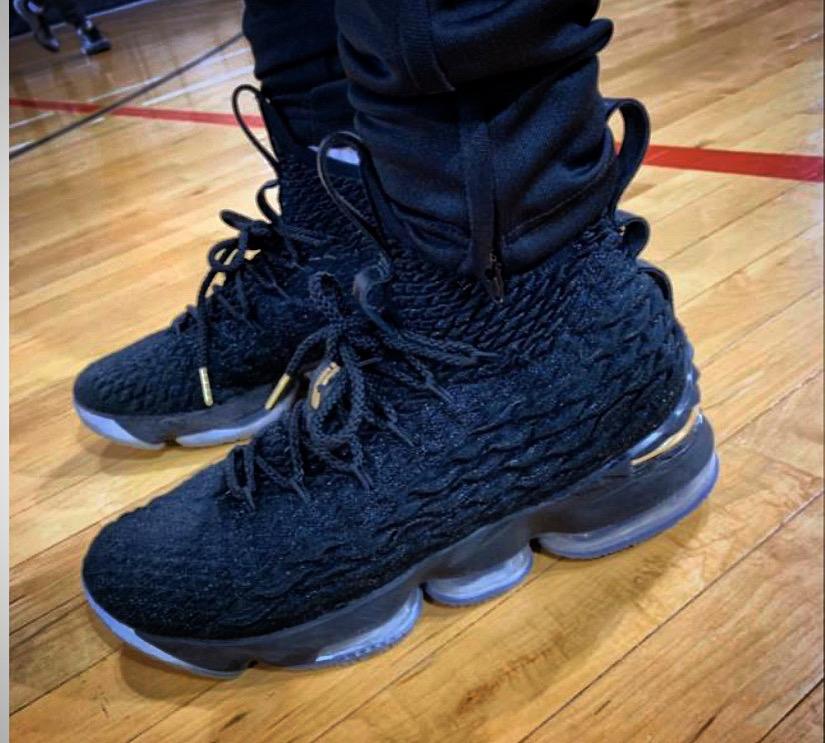 Adeel Q is the biggest Lebron fan outside of Lebron himself and in his mind he plays the game the same way. After rocking D Roses' for many years, Adeel has finally bowed down to the King and rocks the Lebron 15 'Metallic Gold' to hoop. A great looking shoe with a flyknit upper and air running through most of the outsole. These are one of the better looking Lebron's and he's had a ton of shoes released but none of them have had sneakerheads lining up or killing it on the resale market.
Adeel Q finds himself sitting at #16 in GUT pts and would easily be in the top 10 if he had a better finals record. He has gone 1 for 5 in the finals, perhaps an ode to Lebron and his measly 3 for 9 record in the finals. But just like Lebron, Adeel will tell you he's the greatest player of all time even though not many might see things that way. The Lebron 15 'I'm the GOAT' are your sneakers of the week.
---
Season 2 - Week 13 Sneakers of the Week
Air Jordan Trainer 1 - Hamza Rustom
Week 13 we highlight a season 2 GBBL rookie in SOTW, as we showcase Hamza and his Jordan Trainer 1 Gym Red shoes. Just like how Hamza "the Gentle Giant" plays on the court, the Jordan Trainer 1's is not flashy or in your face, but effective and if you look at it (or Hamza's game) closely, you will see the little sparks of brilliance.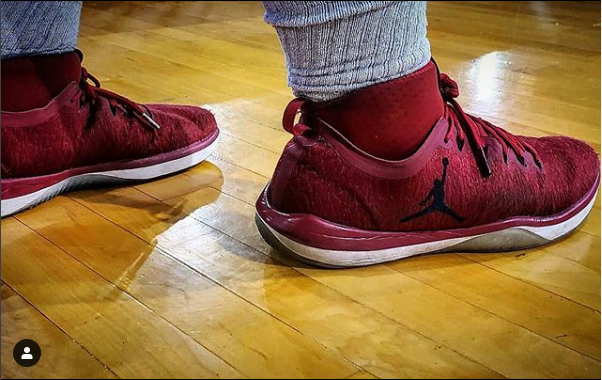 The Jordan Trainer 1 features a Gym Red Flywave upper in Gym Red with an elephant print silhouette placed all throughout. Additionally, the shoe also has an extended collar, black Flywire cables for a lockdown fit and a Nike Zoom Air unit in the heel for support and comfort.
The Jordan Trainer 1's is an ode to old school basketball, and Hamza has brought back the traditional old school big man to GBBL this year, with his punishing and imposing style of play under the basket and his lockdown defense. But just like his shoes, if its required, Hamza always steps up to the plate, and can drain that outside shot with his soft touch. Your week 13 week Sneakers of the Week.
---
Season 2 - Week 12 Sneakers of the Week
Nike Kyrie 4 'Halloween' - Hamid Malik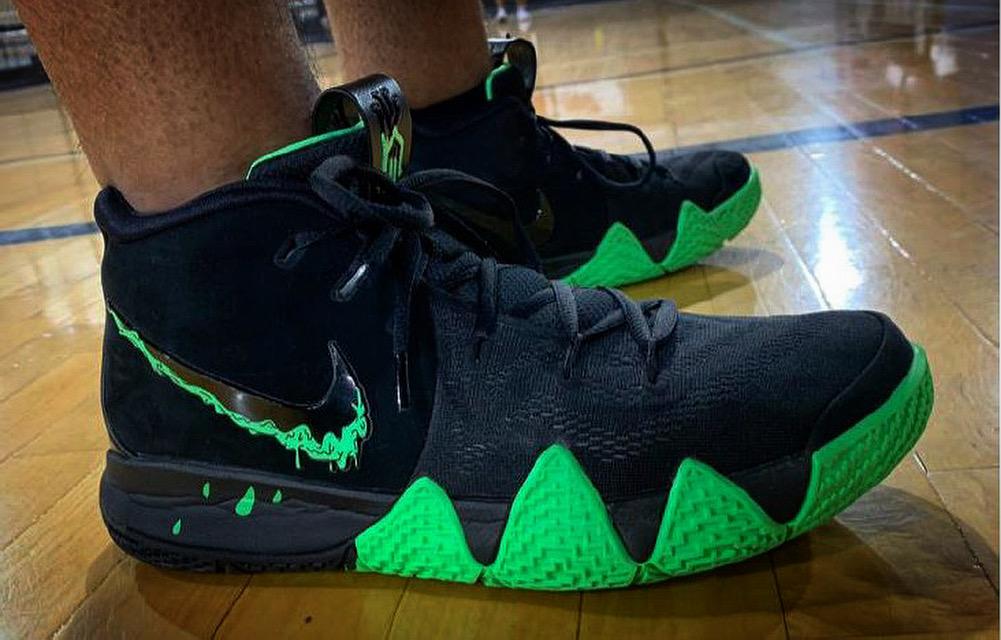 Another week, another Kyrie. Uncle Drew is the leagues logo and Get Buckets is the leagues name, so it only makes sense that we see another fire pair of Kyrie's in the spotlight.
This season Hamid has been rocking the Kyrie 4 'Halloween'. One of the most sought-after colorway that are sold out everywhere. Was that Hamid's motive to get these particular shoes?
Looking closer at the shoes, the green is a familiar one and it's literally oozing off the Nike check. Green ooze? Like Ninja Turtles ooze? And it starts to make sense. Hamid is a massive TMNT fan and is often seen rocking Ninja Turtle t-shirts and legend has it he rocks a Ninja Turtle onesie at home every chance he gets. He looked at these shoes as the 'Ninja Turtle' colorway and knew he had to have them.
This season Hamid has put a real focus on his defense and while his scoring is down he's helping his team lock down top players. With 5 final appearances and 3 chips even Master Splinter would be proud!
---
Season 2 - Week 11 Co-Sneakers of the Week
Kobe AD "Black Gum" - Riyad Ramjaun | Kobe AD NXT "Infrared" - Arshad Chawdhury
Week 11 - the first time GBBL hit the hardwood since the news of Kobe, his daughter and 7 others tragically passed away in a helicopter accident. As mentioned in the recaps it was another reality check as we are quick to forget what really matters in life and what doesn't. The sneakers, the GUT pts, the wins/losses don't matter, but making a positive impact and inspiring each other on & off the court as brothers is far more important.
SOTW pays homage to 2 guys that rock #8 and #24 in our league and also rock Kobe sneakers. Both guys have a Mamba mentality to them on and off the court, they play hard & play with emotions - a telltale sign they are committed to this league and having a winning mindset. You never know who's watching or who you could be inspiring & Riyad & Archie are definitely 2 good guys that I'm proud to have part of this league and can call my brothers.
"Life is too short to get bogged down and be discouraged. You have to keep moving. You have to keep going. Put one foot in front of ther other, smile and just keep rolling" - Kobe. In this case, put one Kobe in front of the other...and keep going.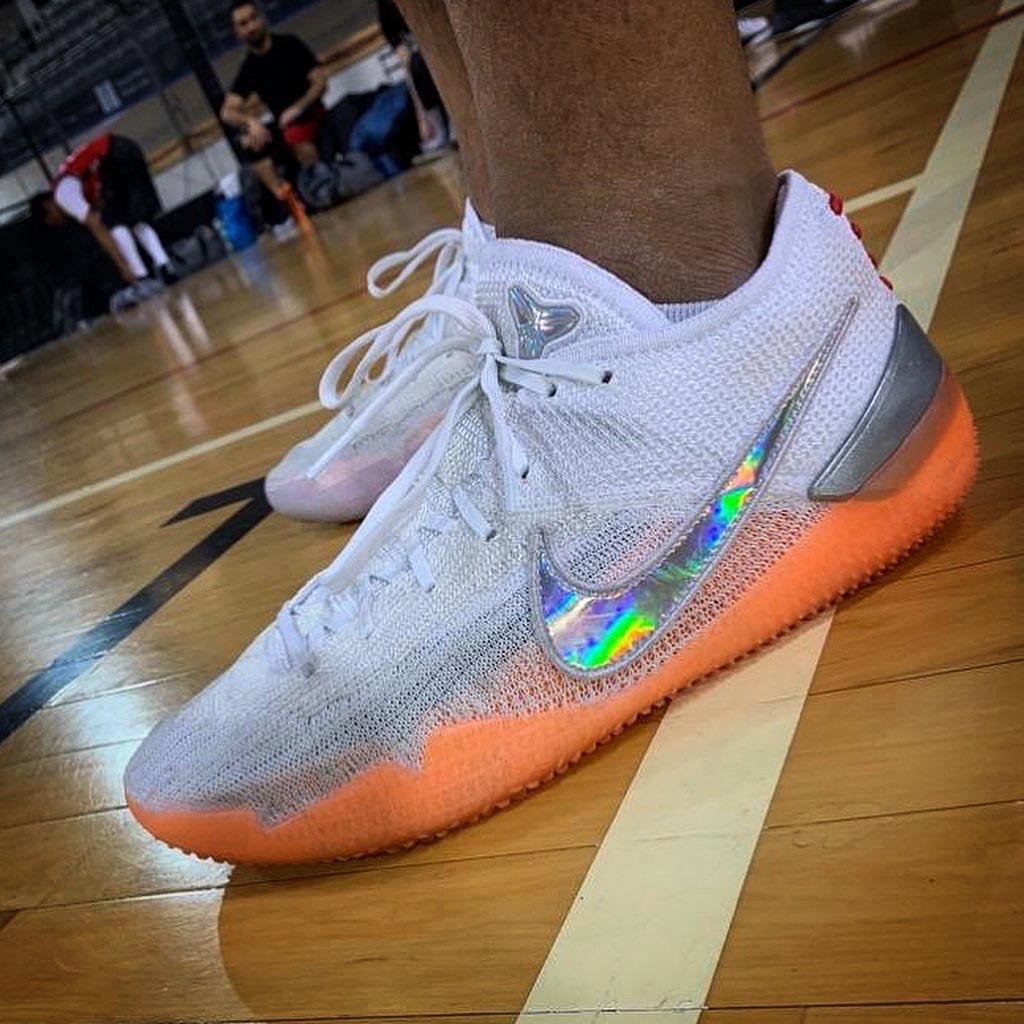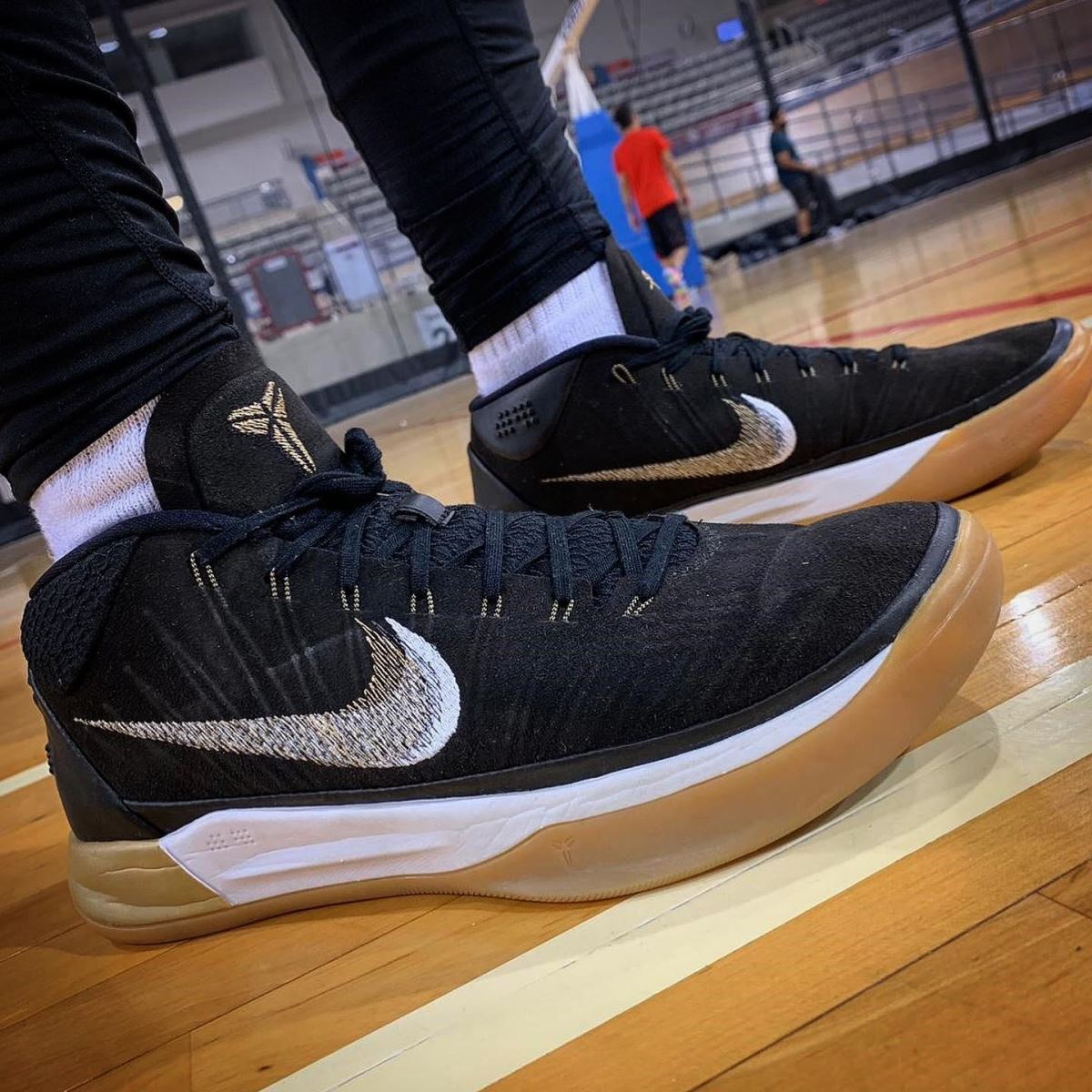 ---
Season 2 - Week 10 Sneakers of the Week
Under Armour Curry 6 "Coy Fish" All Star - Saleem Qureshi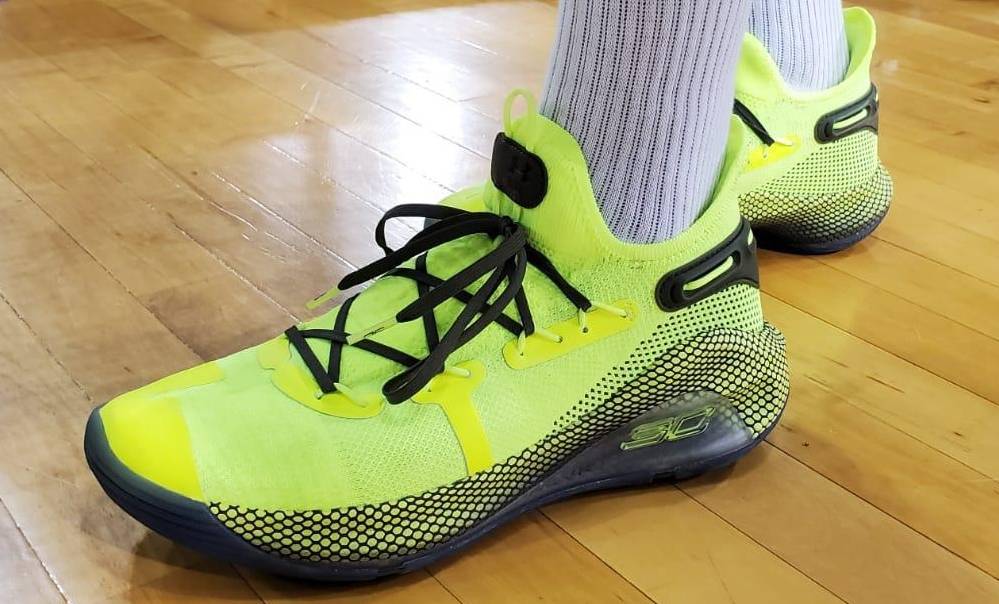 With the Sub players taking control and captaining their teams this week, it's only fitting that we look at one of the nicest and brightest shoes we've seen all year; the UA Curry 6 "Coy Fish" All Star, rocked by resident super sub, Saleem Qureshi.
The Curry 6 "Coy Fish" sports a striking colorway to the vibrant beauty of the Koi Fish and features a bright yellow knit upper, a full length HOVR midsole and water like outsole for the best in class traction. Just like the Koi Fish, the owner is docile; a truly friendly person who will never be the one to argue or fight anyone, Saleem has maintained his "good guy" status throughout the season, and enjoys playing with everyone.
His game, however, is completely opposite of his docile nature, as Saleem can turn it on like no one else can and turn into a killer on the hardcourt. Whether hitting big time shots, getting his teammates involves or dribbling circles around others, just like his shoe, Saleem is often the brightest thing on the courts. Although we miss Saleem as a regular player this year, we hope he keeps coming out as a sub every week, and will continue to shine bright, only like him and his shoe can.
The Under Armour Curry 6 "Coy Fish" All Star are your week 10 SOTW!
---
Season 2 - Week 9 Sneakers of the Week
Nike Air Versatile - Tabish Khan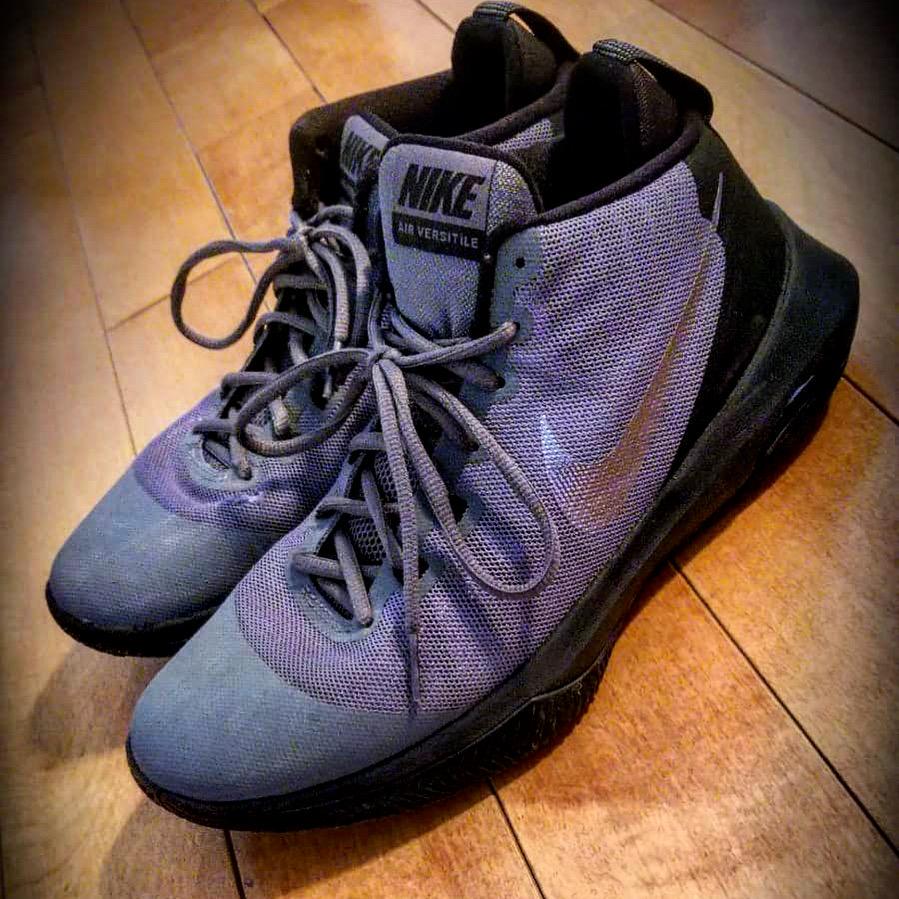 A new year a new sneaker. This week we take a look at the Nike Air Versatile rocked by Tabish Khan.
Mostly grey with a black sole, the Air Verstailes look like a blue collar sneaker that have been putting in hard work over the years with lots of sleepless nights. A subtle shoe just like its owner who is one of the nicest guy you'll meet on and off the court. Tabish has drastically improved coming into season 2 and finds himself tied for #8 in GUt points, reaching the finals 4 weeks.
Tabish welcomed a baby boy this week (Jan 6th) and everyone thought for sure he would take week 9 (jan 7th) off. That wasn't the case as he showed up on the court a mere 36hrs after having a baby showing true commitment and, like his shoes, versatility by being a new father and a baller.
The league sends congrats and well wishes to Tabish & the family on the new addition of baby Ameer Khan. May he enrich your lives on and off the court. Ameen.
The Nike Air 'Big Daddy' are your week 9 SOTW!
---
Season 2 - Week 8 Sneakers of the Week
Nike Kobe 9 Elite 'Christmas' - Jav Ahmed
Ho-Ho-Ho! As GBBL heads into its end of year break, we spotlight a shoe that's a perfect fit for the holiday - The Kobe 9 Elite 'Christmas'. The sneaker sports red and white accents on the Flyknit upper that match the swirl of the outsole pattern that is inspired by Christmas stocking colors..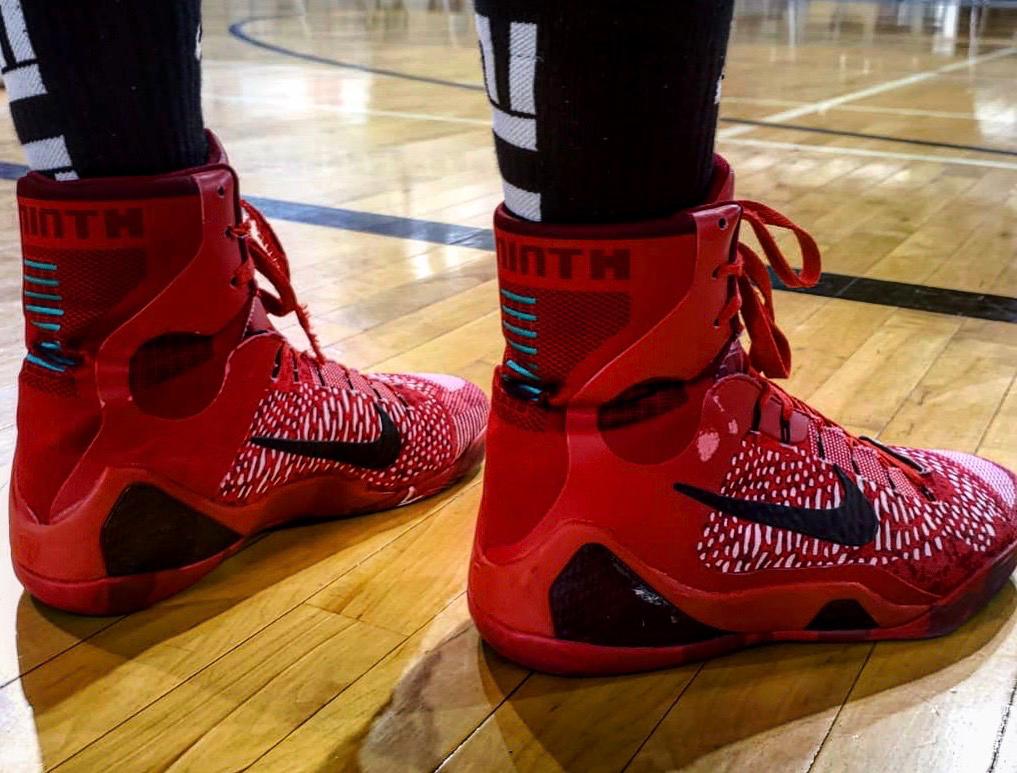 Jav debuted these kicks in season 1 and had to break em out again as soon as he found he would be playing for the Soldiers in Week 8. Routinely rocking the Air Jordan 33's this season, the Kobe 9 Elite 'Christmas' still remain Jav's favorite ball shoe. One of the most revered sneakers amongst hypebeasts, this shoe and colorway still fetches a pretty penny on the resale market and still rocked by NBA players on court today. Equipped with Flywire technology on the lacing for a more stable midfoot feel, the silhouette is contrasted with a black Swoosh and Mamba branding, while the sock-like design provides a snug fit. These are the shoes Kobe's wore after his Achilles surgery, highlighted by the 9 'stitches' running up the back of one of the shoes.
These shoes perhaps serve as a reminder of yesteryear. Jav will be the first to admit he's not the player he used to be. On the wrong side of 30 and some significant injuries on his resume, he still likes to remind guys there's still a little left in the tank.
But season 2 hasn't started out kindly for the commish with only 2 appearances & 1 championship in 8 weeks. Whether he's been naughty or nice, he's hoping Santa brings some luck his way this Christmas as the seasons been largely a lump of coal so far. But miracles aside - Jav knows he can play at a higher level and will look to do so in 2020.
The Kobe 9 Elite 'Commissioner' are your Sneakers of the Week.
---
Season 2 - Week 7 Sneakers of the Week
Nike Kyrie Flytrap 2 'Black Gold' - Mustafa Kamal
Another week another heat check. Uncle Drew would be proud as more and more guys have been rocking some fire pair of Kyries. This week we spotlight the Nike Kyrie 'Flytrap' 2's worn by Season 2 newbie Mustafa Kamal. K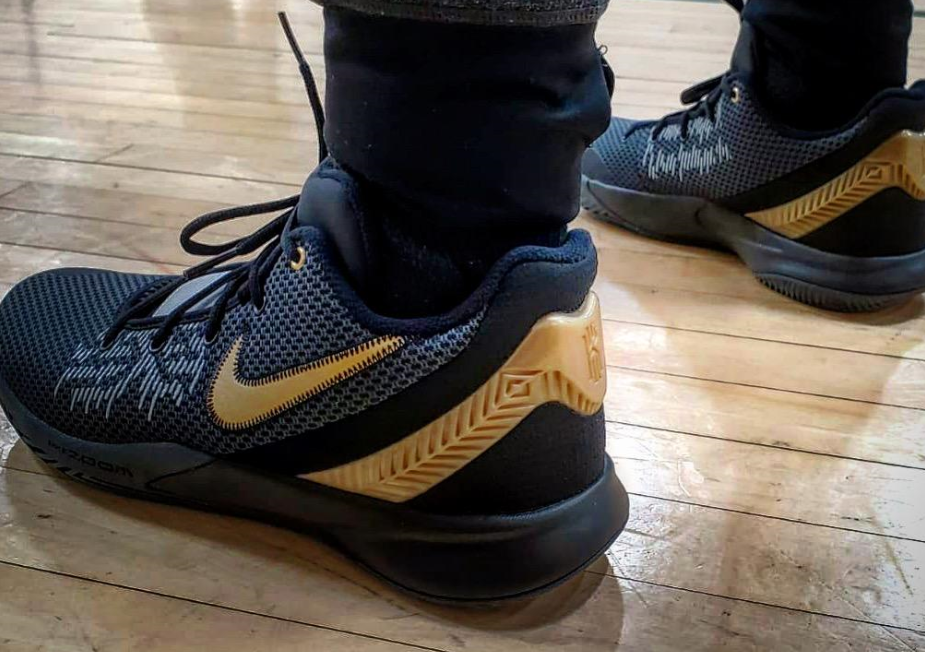 yrie's signature shoes have been extremely popular as Nike has dropped some gems in his lineup and we see another fire pair in the Flytrap 2 design & Black/Gold colorway. With gold swooshes and archs and Kyrie's logo etched onto the uppers, this is a good looking shoe at 1st sight. Rumour has it Mustafa didn't plan to hoop in these as he thought they were a special 'ovo' release because of the black/gold colorway. It only took 7 weeks for him to find out this wasn't true, and he decided he would wear them to week 7 of GBBL.
While it took some convincing and multiple changes to his gym schedule, Masti (as his friends refer to him, meaning 'messing around') finally joined GBBL as a regular player this season. It hasn't taken long but Mustafa has caught the GBBL bug and in Week 4 he captained his very first team to a championship. Coming off another Finals appearance just now in Week 7, Mustafa is figuring things out, adding GUT pts to his name and is going to be a problem for opponents going forward.
His shoes may be named after a carnivorous plant but he's one of the nicest guys you'll meet on & off the court. But it could be a trap, a flytrap that is, mistaking his gentleness for softness because on the court Masti Ujiri will give you the business on both offense & defense!
---
Season 2 - Week 6 Sneakers of the Week
Nike Hyperdunk '2010' - Zahid Merchant
This weeks SOTW spotlight features GBBL's newest official member & a sharp shooter no one saw coming. Zahid entered the league this year as a sub and has been at the top of the GUT leaderboard since week 1. He's appeared in the finals 5 out of the 6 weeks only losing 1. Sitting at 49.5 GUT pts he is almost doubling the guy at number 2.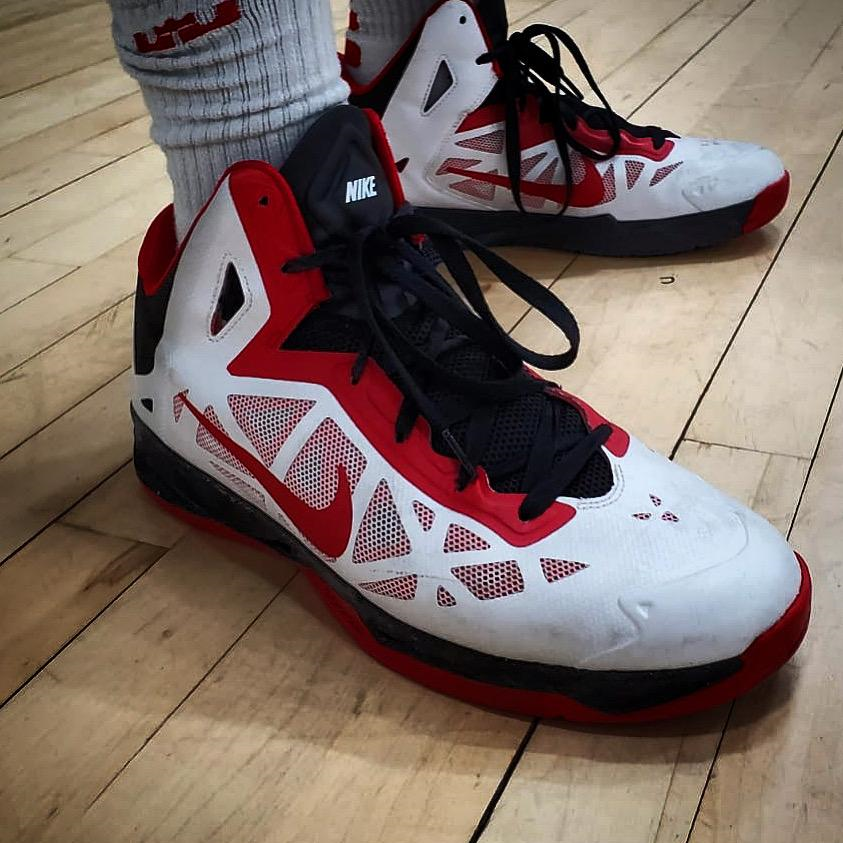 The ultra competitive Merchant (also commisioner and multiple x champion of the popular BSL softball league) put away his cleats in order to lace up in the super retro Nike Hyperdunk 2010. Rumour has it Zahid got these shoes from a thrift store with the initials "UD" written on them, believing they were worn by Uncle Drew himself (not the plot of Like Mike...).
Magical shoes are not, the basketball talent Zahid Shuttleworth has shown while wearing these are hard to go unnoticed. 1st in pts, 3pm & 5th in REB this season, he's proving all doubters that 'He got Game' as he goes for his 2nd dynasty attempt already in only 6 weeks.
The retro Hyperdunk 2010 'UD' are the perfect shoe for the retro Zahid to hoop in and teach the youngbloods a thing or 2 along the way.
---
Season 2 - Week 5 Sneakers of the Week
Nike Kyrie 5 'Just Do it' - Hummaad Ahmed
SOTW 'Rewind Edition' - Sneakers of the Week is back but this week we're going into the archives to spotlight a shoe that started it all...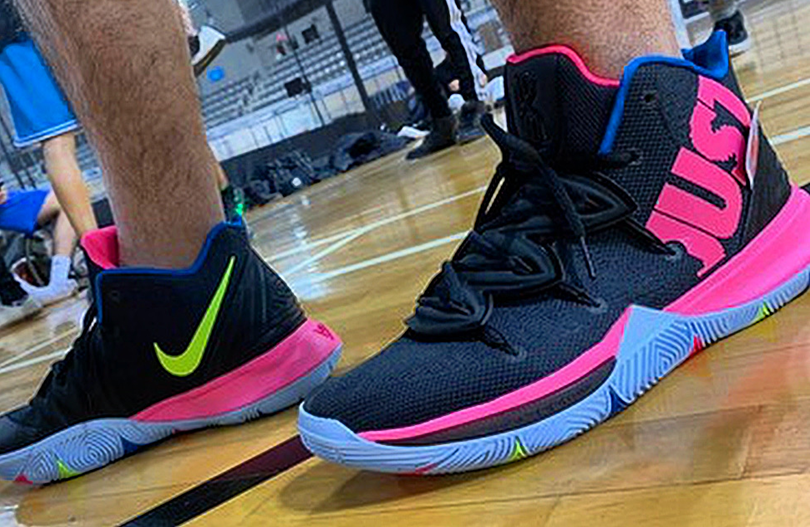 When Hummaad busted out his brand new Kyrie's last year it made all the sneakerheads go crazy! These shoes were absolute fire and it was decided right then and there that GBBL had to somehow capture & showcase some of the shoes guys were rocking - and SOTW was born.
Hummaad rocks one the freshest pair of Kyrie's in recent memory. The Kyrie 5's "JDI's" aka Just DO It. Fittingly so, Nike brought back the Just Do It slogan after many years much like Hummaad who made his return to the court after many years away due to injury.
He continues to be a feel good story in GBBL, and slowly but surely he's getting back into form and guys hope to see him back in full Reggie Miller mode sooner than later.
GBBL's ultimate Mr. Nice Guy - Hummaad decided to Just Do It & finally broke into the finals in Week 5 and earned his 1st GUT pts of the season.
---
Season 2 - Week 4 Sneakers of the Week
Air Jordan 33 'All Star' - Jav Ahmed
This week we highlight the Air Jordan 33's All star edition. Jay, has been rocking some fresh sneakers the past couple of seasons but these ones look like they're at the top of that list. With a laceless 'fast fit' system their def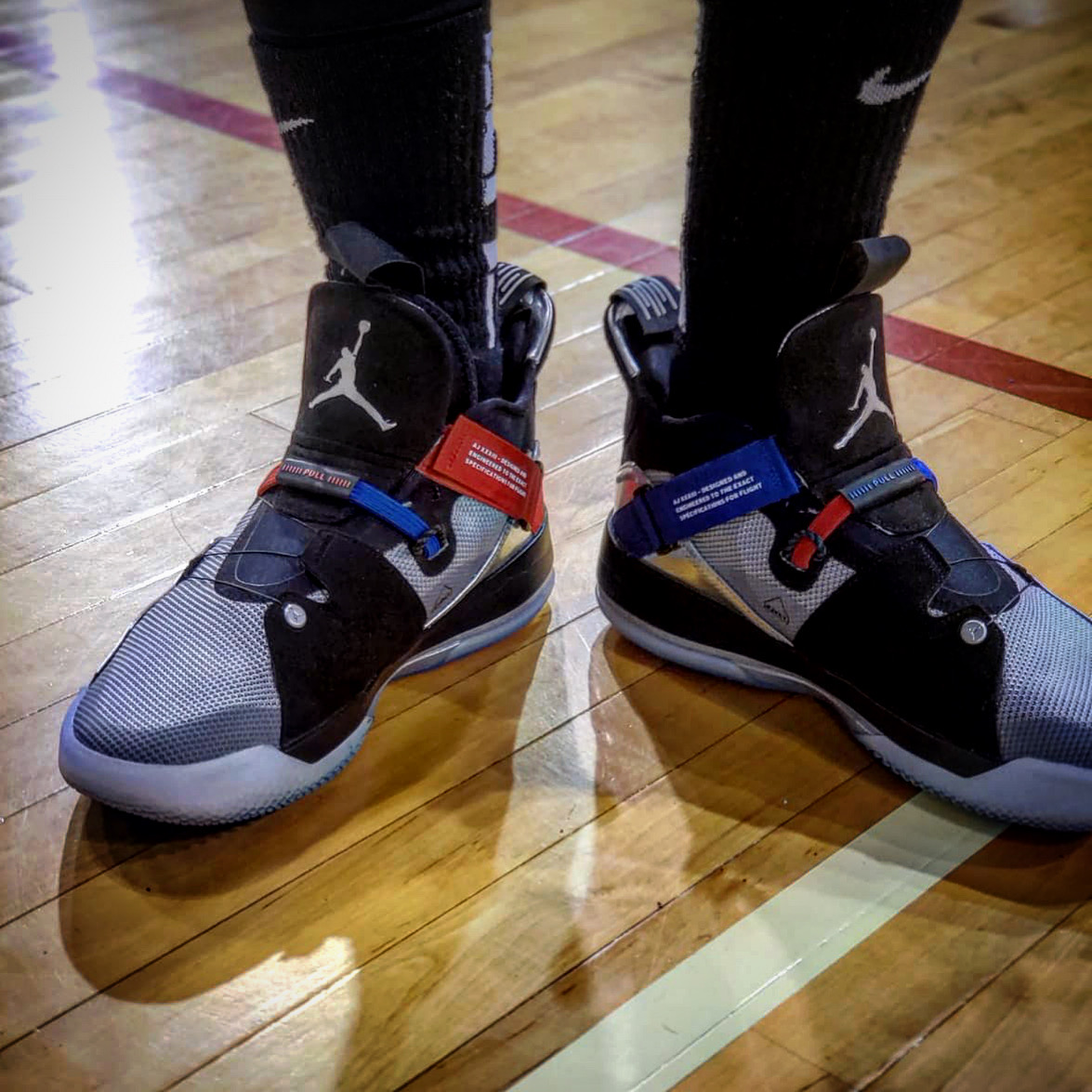 high tech, which is a perfect fit for the tech ace. These sneakers are also the 2nd ones we see incorporate all 5 GBBL team colors and another mismatched pair w/ blue & red on opposite shoes.
If your shoes match nowadays you're doing it wrong..
Jav, coming off a fresh victory in week 4, is not only the commissioner of GBBL but he's been a baller since his early days. He had a passion to not just go out and teach these young kids a thing or 2 about ball but, to get people together and spread the joy of basketball to the best of his abilities. In his young days, Jay "smooth" Ahmed was a force to be reckon as he ruled the rough courts of Gonzaga for years with his tantalizing handles, that lights out shot from distance and the will to lead his team day after day. His passion for basketball has been burning in his chest for years and by founding GBBL, he finally found a way to spread the joy of basketball while teaching these young bloodz a thing or two about respect and how the game should really be played. These young ballerz… they don't know. As T-Mac once said… These kids, they coming into this league without an education. They'll be fine… cuz I'ma take em to school every night.
Jay was one of the headliners in last years all star game which is a testament to not only his overall skill but the fact the he can juggle the stress of running a league of this calibre, raise 2 kids, work full time, run side projects and still dazzle us with his handles. A sure fire All Star in my eyes and its only fitting that he rocks the Air Jordan 33 All-Star edition kicks.
---
Season 2 - Week 3 Sneakers of the Week
Nike Lebron Witness 3 'Black Red' - Baseer Yaseen
It's tiiiime for Sneakers of the Week - presented by ....no one. Week 3 spotlights a GBBL player thats been a force since its inception. Referred to as Big Bass - Baseer has cemented himself as one of the marquee players in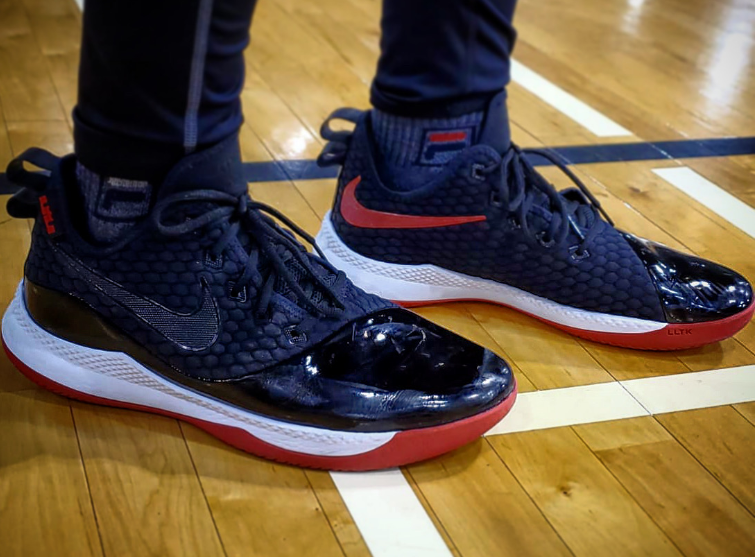 the league. His game has been sick since Season 1 but his shoe game was weak according to sneakerheads. If memory serves correctly, Baseer was rocking some random Reebok's last year. A shoe brand that hasn't been cool since Iverson's practice days in Philly...practice? we talking practice?
With season 2, Baseer knew he had to get some new kicks for a chance at the SOTW spotlight. And much to this writers chagrin, Big Bass brought out the Lebron Witness 3 'Black Red'. The shoes look dope - with mismatching swooshes on each shoe and shiny toe box ready for the ballet....err i mean the hardwood.
Baseer finally made it to the finals in Week 3 with the Mambas but failed to win in a hotly contested game w/ more arguments than dribbles. We know this is not the last we'll see of Baseer in the finals - Rocking LEbron's we expect to see him make it 8 times straight like LBJ himself. But let's hope he come can out with a better winning record than 3-5 (3-6 overall) than the King himself. Your Week 3 SOTW! We are all Witnesses...
---
Season 2 - Week 2 Sneakers of the Week
Nike Zoom Freak 1 "Black Iridescent" - Raheel Sadiq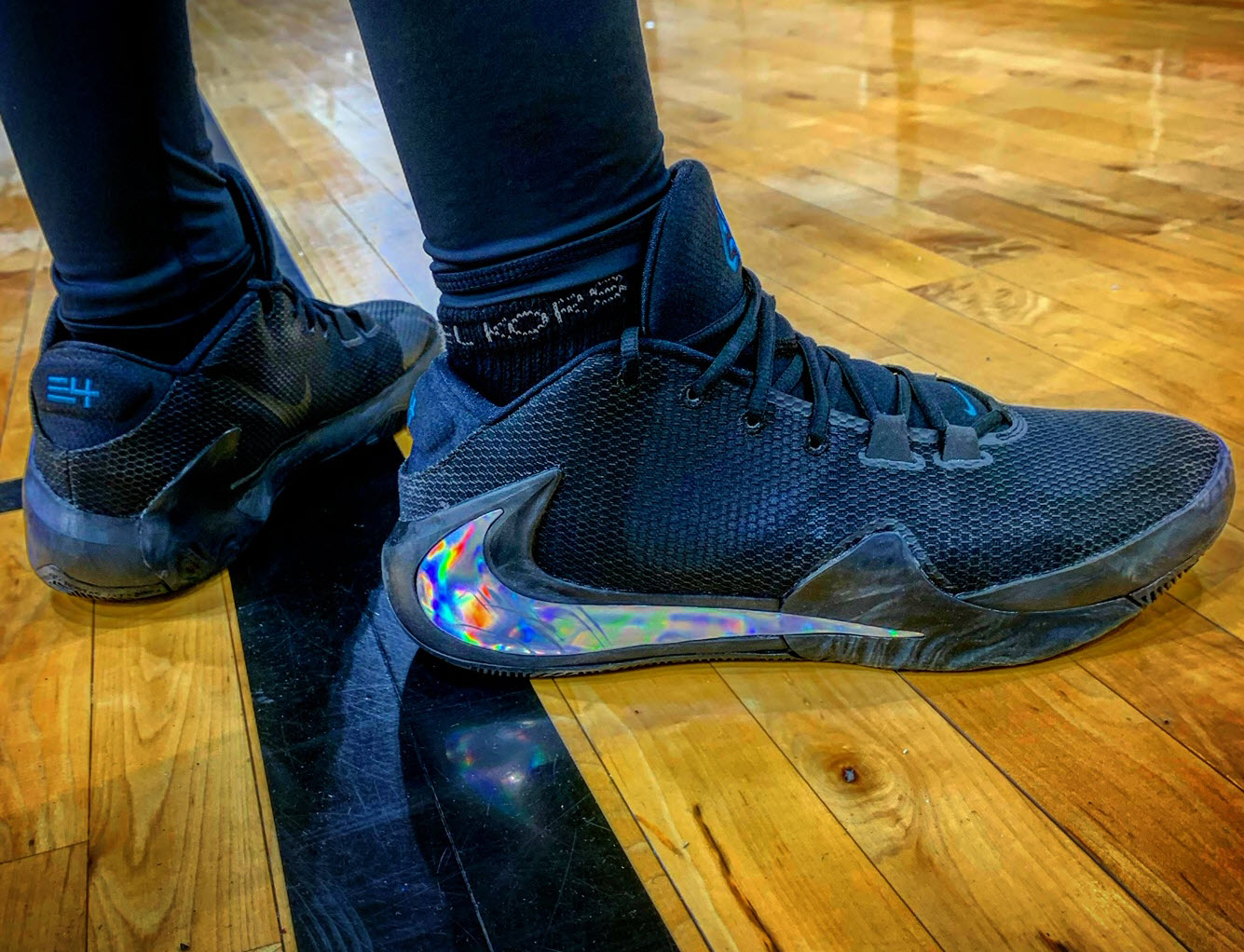 Week 2 and the hits keep coming. Week 2 features Giannis' 1st signature sneaker the Zoom Freak in a colorway this writer had not seen. Nike's been pretty creative with their swoosh in recent years and the reverse swoosh was 1st seen on Lebron's a couple years back. But the Zoom Freak's take it to a whole other level with the reverse swoosh almost forming part of the shoes bottom. The holographic swoosh on this colorway adds to the whole appeal.
The Black Iridescent colorway was rocked by new comer Raheel who physically might be the closest thing to Giannis in the league. He's got the length and the wingspan and the league feels its a matter of time before he's a force to be reckoned with. Raheel came out as as sub towards the end of Year One and caught the GBBL bug instantly and knew he had to sign up for Season 2 as a regular. He made the finals Week 1 but perhaps gassed out as he managed only 1 pt & 1 reb in a high scoring affair.
Listed at a generous 6'1, he is the tallest player in the league and if he can start finishing around the rim at a higher clip it's going to be problem for opposing teams. But hey, it took Giannis a little while to get going & we think Raheel is going to be a freak as the season progresses. Your Week 2 SOTW!
---
Season 2 - Week 1 Sneakers of the Week
Air Jordan MARS 270 "Top 3" - Riyad Ramjaun
Welcome back Youngbloods to one of the more anticipated weekly features of GBBL! Sneakers of the Week! It's only week 1 of season 2 but you can tell guys aren't messing around when it comes to on court kicks this year.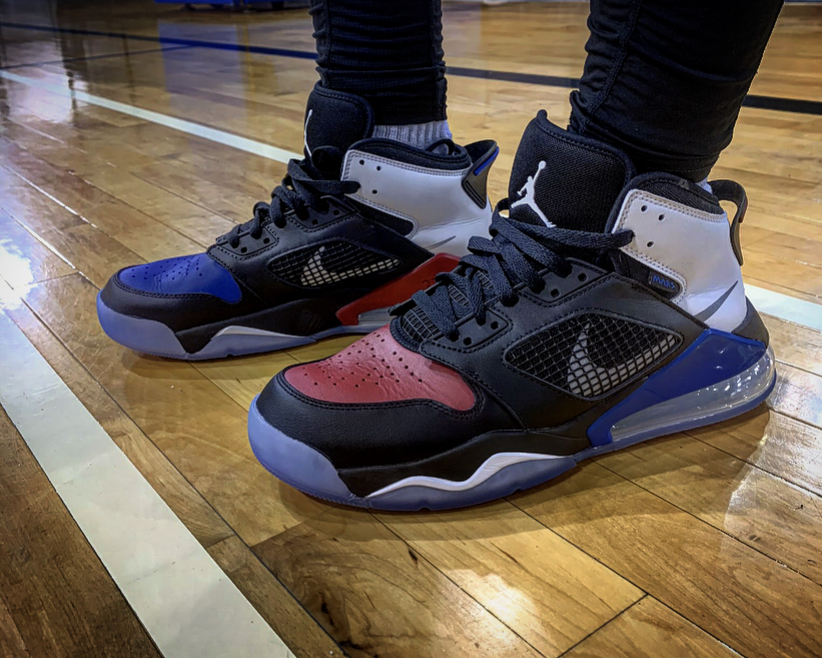 We've already seen a bunch of guys rocking brand new kicks and are anxiously awaiting their call to SOTW.
For week 1 we had to feature perhaps the sickest kicks we might see all year. Not only do they look insanely good there's rhyme to the reason. The shoe itself is a hybrid of Air Jordan 1, 4, 5 & 6 but with the Air Max 270 sole. What?! Crazy! But the Top 3's colorway is what takes these kicks into outer space! Our in house stat guru and die hard GBBL'r, Riyad knew he was grabbing new kicks for Season2 the minute last season ended and he wanted something to encompass all 5 GBBL teams. How do you do that? You find a pair that has white, black, red, blue & grey. It's actually harder than it sounds. But RR (aka Riyad the Relentless) found em and is ready to rock with any team this year.
The MARS 270 shoes were also a perfect match to Riyad's game in Week 1. Making it to the finals without a sub (or should we say WITH a super sub), Riyad caught fire in em and was seen shooting from Mars as he knocked down 3-pointer after 3-pointer. Unfortunately, there's video footage of this so we will all be reminded regularly of Riyad's outer space performance in Week 1!
. Sick shoes w/ the game to back it up. Your Week 1 SOTW!
---