Season 2 - Mid Season Report
What up YoungBloods. During the January 2-week layoff, we're now halfway through Season 2 and will look back on the first half of season 2. Season 2 has been by far more competitive with players gunning for GUT points weekly (only 1 league regular is left to earn a GUT point). With the added competitive spirit, players are going harder than Season 1, and with that, unfortunately, we've suffered a few big injuries this year. Adeel V unfortunately, re-injured a pre-existing knee injury after playing 2 weeks, and was forced to the IR for the remainder of the season. Shehryar, suffered a gruesome injury during week 6 play and dislocated his shoulder. Our thoughts and prayers go out to the boys on the mend, and IA you will be back on the hardcourt in no time.
1st half done and we must start off the recap with the Week 5 – 7 Soldiers. Captain Arif drafted himself a killer team made up of Adil M, Baseer, Omar & Zahid. These boys gelled and ran through their competition, on route to becoming the 1st (and only) Dynasty so far this season. Playing the Wolves, Mambas and Ballers in 3 finals, the Soldiers put together a run (winning each final by 1 possession) and completed the Dynasty, with all 5 players showing up for all 3 games. Kudos to the boys in red for a great accomplishment. With the Soldiers becoming a Dynasty, it also ensured that those players were guaranteed a bunch of GUT points. Unsurprisingly, all 5 guys rank in the top 10 GUT points this year, with Zahid running away with the overall lead (currently has a 24-point lead on 2nd place Baseer). What is surprising however, is Zahid now leads ALL offensive categories heading into the second half of the season (league leader in Finals Appearances, Championships, Points, 3-points, Rebounds and overall GUT points). The real question is, whose bright idea was it to let this guy play? LOL.
10 weeks in, and we could not have gotten this far without the play and commitment from our sub players. With multiple absences weekly by our regulars (you know who you are), the subs have come through to ensure the league runs without a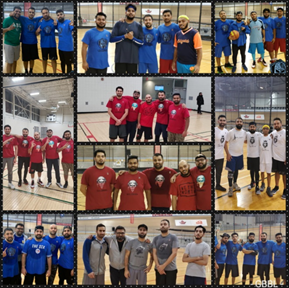 ny hiccups. Saleem & Adil Merchant have been constants from our sub list and have now played more games this season than 5 league regulars. The hope is with the holidays over and everyone back in the swing of things, regulars will be more committed on a weekly basis (the day and time never changes, and the schedule has been posted since week 1, so there should be no surprises as to when we play). Speaking of play, on the flip side of things, we have 4 guys (Jav, Riyad, Shahzad & Awais) who have played all 10 weeks. In those 10 weeks, Awais & Riyad have now played the greatest number of games as teammates, playing together 6 of the 10 weeks. One of the key differences between GBBL & other basketball leagues, is the weekly draft. This was done to promote the brotherhood of the league so that you will have a chance to play with most (if not all) players, by season end. By the midway point, Riyad has now played with the greatest number of players in the league at 19, while Sood has played with the least number of players at 7. Finally, through 10 weeks, we have 6 players (Baseer, Jav, Shahzad, Shehryar, Siad & Tabish) who have played for all 5 franchises (getting their moneys worth with the league approved shirts).
Highlights
On to the action, we've seen a lot of great plays and players through the first half. Zahid & Riyad trading 3's after 3's in an epic week 1 showdown started things off, while the commissioner Jav went all MJ in week 9's finals and decided to take over the overtime on his own. Other noteworthy highlights/lowlights include:
♦ Week 1 Legends (Riyad, Siad, Tabish & Usama (sub)), remain the only team to win a championship with only 4 players;
♦ Saleem crossing over and dropping Hamid, while calmly dropping a 3 to win;
♦ Archie getting frustrated at himself over and over (it's a sight to see LMAO);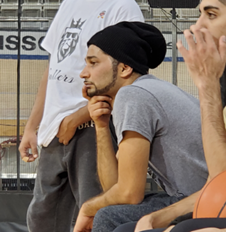 ♦ Jav putting his defender in a 360 degree spin cycle and calmly knocking down the deep shot;
♦ Hamid snagging a league high 9 rebounds in the week 2 finals;
♦ Siad dropping 3 3-pointers on route to a week 4 championship;
♦ Zahid literally carrying his week 6 team, scoring ALL the teams points in the finals;
♦ Awais finally getting the monkey off his back and winning his first championship in week 10;
♦ Of the 241-man games played, subs have accounted for 36 spots, or 15%;
♦ Most wins in a round robin has been 5 wins by 3 teams (Week 2 Legends, Week 4 Ballers & Week 8 Direwolves);
♦ Best point differential in a given week was +21 by Week 6 Mambas (Adeel, Awais, Raheel, Riyad & Shahzad);
♦ Worst point differential in a given week was -27 by Week 2 Direwolves (Adeel Q, Fahad, Hummaad, Shahzad & Umar);
Sneakers of the Week
One of the major highlights of GBBL has (and always will be) the Sneaker of the Week (SOTW) aspect. With guys rocking some unbelievable kicks this year, it's been a challenge to try to get everyone on. This year, we've seen an influx of Nike's, with the first 9 w
eeks showing off Nike/Jordan branded shoes. Week 10 produced the first non-Nike shoe, with sub Saleem rocking his Under Armour Curry 6 "Coy Fish" All Stars. With 8 more weeks left, we can't wait to see what kicks GBBL'ers will rock.
Housekeeping
Finally, as much fun as we've all had, we've also noticed an uptick in minor issues on the courts. We need to remember that at the end of the day, this is a game we're all playing for fun and not to get hurt. No one is getting paid to play, and your stats (although fun to keep track of and is a great feeling when you accomplish something), mean nothing in the grand scheme of things. Issues that have come to light in the first half include:
Not tracking scores/stats correctly:

Team captains are REQUIRED to stay back and track the final stats correctly

Intentional fouls (especially in Round Robin games):

Although this cannot be monitored, the honor system must come into play and players need to ensure they are not intentionally fouling others

The number of fouls being called:

End of the day, this is still streetball/pickup, in a more organized manner; only call fouls that are obvious and impeding you from getting to the basket; you don't want to be known as "THAT" guy that calls everything

Calling travel, walksm double dribbles ALL the time:

Not everything is an infraction; call it only if you are certain

Players not showing up on time and forcing teams to play shorthanded:

Games are played same time, same location every week; please try to respect the time and your team and be on time

Last minute cancellations:

This is not something that can be addressed unfortunately, as stuff comes up in people's lives
Season 2 has been a success so far, and with the continued commitment and help from everyone, let's finish off the season with a bang. Let's get back to having fun playing ball and enjoying each other's company. Remember, we are all part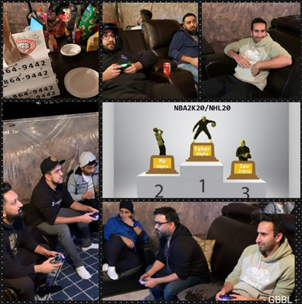 of something special (whether you want to believe it or not). We get to play a game we love, with guys we enjoy hanging out with, and do some good for the community.
'GetRewards' - GBBL Charity Initiative
The GBBL charity initiative now has a name - GetRewards! Through GetRewards, we have planned & executed multiple initiatives to raise money for our official Season2 charity (Project Ramadan).
GBFL - GetBuckets Fantasy league: Fantasy basketball league includes 12 GBBLer's & through the midway point of the NBA season Sheryar sits atop with Hamid & Hummaad in 2nd & 3rd place.
2K Charity Tournaments: This year, GBBL hosted its first ever 2K Charity tournament which was a huge success with the winner, Taher, winning courtside seats to the Raptors 905 game (thanks to our Kala Law Firm for donating the tickets). GBBL will be hosting its 2nd 2K tournament on Friday, January 24th, 2020 and we will IA be adding to the amount we will donate to the league's charity of choice, Project Ramadan.
With more initiatives in the works for 2nd half of the season; like NCAA Bracket tournament, GBBL store, donate your GUT pts, plus more, we hope to add to the $800 we've already raised so far in charity (kudos to everyone on this). Plus 'Follow your Donation' where GBBL plans to attend a Project Ramadan build day to volunteer some time and hand out some assists. Keep up with GetRewards by checking out the new section on this website (About > Get Rewards)
Rule Change
One last important note. A rule change is being implemented for the 2nd half of the season. Tie breakers will now go in the following order if teams have the same number of points at the end of the round robin games:
1) Total Wins
2) Head to Head Wins
3) Point Differential
The 2nd half of season 2 kicks off on February 4th, 2020 boys and everything is still up for grabs. Top 10 in GUT points make the All-Star team; going on a few winning streaks will put anyone back in the race. Enjoy the time off, heal up any injuries, and enjoy the SuperBowl; GBBL will be back in a few weeks. Peace out YoungBloods!!!